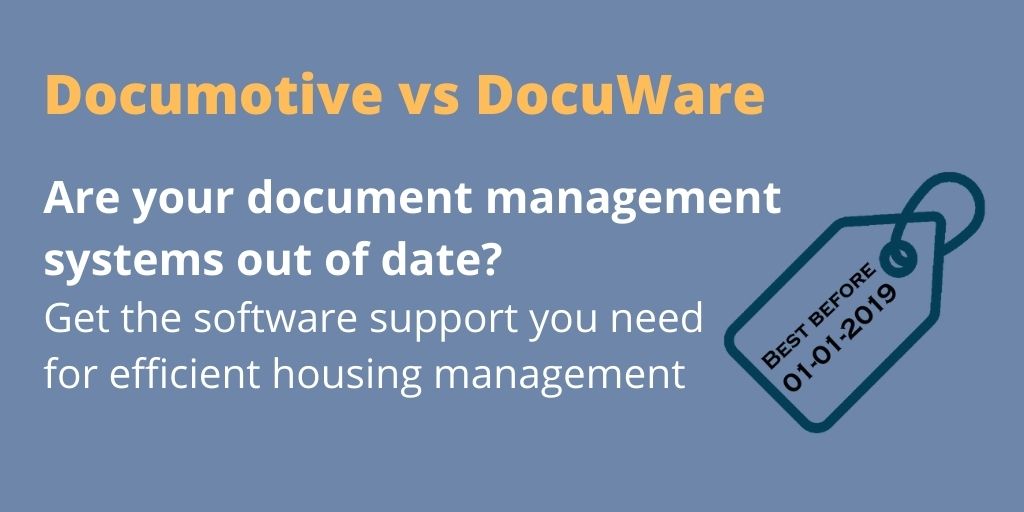 Documotive vs DocuWare
Are you using Documotive to manage your documents? If you are then it's time to explore a cloud-native solution that fits your requirements from housing repair requests through to invoice processing - rather than a boxed solution that treats all housing associations and property management teams alike, with support to help when you need it. That solution is DocuWare ...
What can you expect from DocuWare?
Full support and easy integration with back-office systems.
From web form to internal and external systems in minutes, automatically
Robust workflow capabilities to action the information from the documents received
Tenants can scan documents via mobile phones or any smart device
Follows data retention guidelines
Supports mobile and remote working
Fully supported solution through Twofold Ltd
Watch our demo of tenant repair reporting right now>>
Struggling with out-of-date systems?
With many organisations using out-of-date systems not designed to cope with modern requirements, or even struggling with spreadsheets to manage their data, they are looking for modern cloud-based solutions to manage their most valuable asset – their data.
Older, less efficient systems can lead to misfiling, loss and accidental destruction of data, and take valuable time to manage, and with some of these legacy systems the support required to maintain the systems just isn't there.
Support and upgrades
Your DocuWare application will be fully supported through Twofold Ltd. Our experienced team is on hand to customise to your specific needs, fix any bugs, or solve any issues and questions if you have them. As a specialist Docuware partner, we ensure your documents are at your fingertips and minimise the manual work required to process tenants' complaints or invoice processing.
Easy integration with back-office systems
DocuWare's easy integration with back-office systems means you can collect customer and tenant information from a variety of online sources and have that data working for you in your internal or external systems in minutes. What's more, once the data is there it can be actioned with robust workflow capabilities that comply with the latest in data retention guidelines.
With Cloud-based SAAS deployment – mobile-enabled for remote access and at any time - you save time and money, while you focus on more business-centric issues – not searching for records and support requests.
Improve customer service
Leaseholders, committees, and tenants all expect greater service levels than ever before, so take advantage of the latest smart solutions for the UK social housing sector with DocuWare document management for the housing sector.
Move away from a paper-based system of communication, as your tenants scan documents via their own mobile phone or smart device – speeding up processing, reducing errors, and touchpoints in processing.
As organisations are under pressure to do more with less while upholding quality and security assurances, this ability to handle large amounts of data, and sometimes complex workflows quickly and efficiently can frequently be the difference that creates a successful housing organisation and prevents a failing one.
Want to know more?
Twofold Ltd has over two decades' experience with document management, both hardware, and software. We partner with world-class software solutions providers to offer advice, and the right hardware or software to ensure you can manage your customer communications with automation to improve efficiency and remove human error.
Watch this demo to see Docuware in action helping to manage repair requests for housing associations.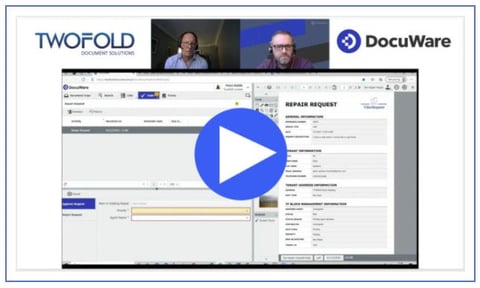 Peter Kiddle
Mailroom Specialist