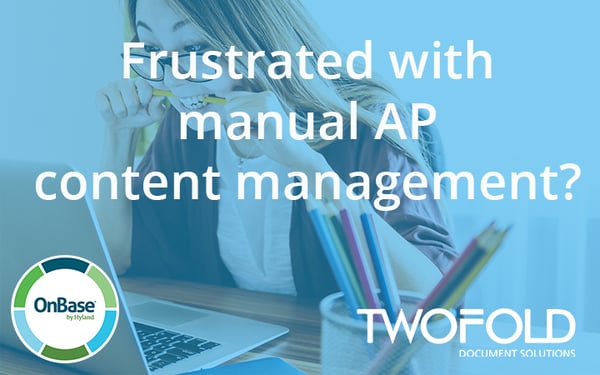 "I love manually indexing invoices and searching for documents", said no AP specialist, ever
If you're manually managing your AP content, you know how frustrating it can be to stay on top of the information that flows non-stop into your organisation. Not to mention the risk involved — all it takes is one small setback and documents can stack up, resulting in late payments and questionable decisions.
Recently, OnBase announced that Workday has certified the OnBase AP Automation for Workday integration. This is great news for customers looking to enhance their Workday Financial Management Solution with automated capture and supplier invoice management.
The solution includes the critical components for successful AP automation – capture, connection, and access. It also facilitates and automates invoice management, synchronises data and documents between OnBase and Workday Financial Management, and provides one-click access to AP documents from Workday invoice screens.
Read our blog '3 ways to boost your AP process' >>

Capture content efficiently to speed your payment process
Invoices should be captured at the source, whether they are scanned or delivered electronically, for the most efficient — and secure — solution.
OnBase offers a range of products to automate capture no matter the source or file type. Then it automatically classifies the supplier invoice and extracts data to minimise any manual indexing or keying. Finally, built-in data lookups to Workday ensure that invoice data is complete, validated, and cleaned.
Allow your employees to access their AP content quickly and easily

Instead of spending time searching through file folders, users have an intuitive, web-based viewer to review and work with their documents as needed. Users can access AP content without leaving their familiar Workday Financial Management screens, navigating to the exact supplier invoice they need.
This easy, single-click access to content not only saves time – it also reduces training requirements and user error. It also lets users focus on higher-value tasks, instead of searching for information.
Talking to customers over the last nine years, no AP specialist ever told me, "I love manually indexing invoices and searching for documents." Never going to happen.
If you have any questions about how we can help make your AP management easier, please complete the form below.
Chris Gubbins
OnBase Product Specialist