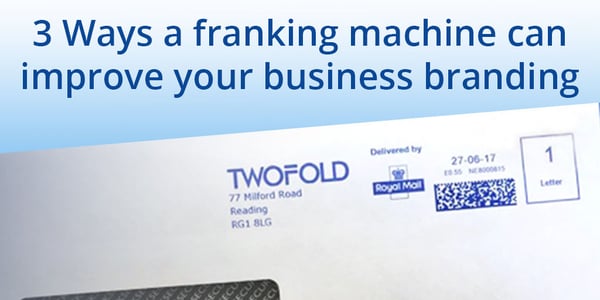 3 Ways a franking machine can improve your business branding
Before they even open their mail, your customers — existing and potential — should be able to see who it is from, be assured it is authentic and form a positive opinion of your brand. A franking machine allows you to do all three.
When we talk about building brand awareness and trust, the devil is in the detail. These details include things like logos, high quality graphics and professional, clean labels, all things which can be added to your direct mail using a franking machine. You can use a franker to build brand awareness, communicate a message or even wish your customers a Happy New Year (and anything else you'd like to say to them).
Your business branding can be improved simply with a franking machine in these three ways :
1. IT AUTOMATICALLY ADDS YOUR LOGO TO YOUR MAIL

Your brand begins and ends with a striking, professional logo, and that's why it needs be included on all of your mail. Adding your logo gives the customer reassurance that it is an authentic communication. It will help the correspondence stick in the customer's mind, even if it is set aside for a while until the recipient has time to open it. A logo will distinguish your mail in a pile of plain, white envelopes and boring packages. The businesses sending those are missing an opportunity, but by using a franking machine, you don't have to.
2. IT INCLUDES HIGH QUALITY GRAPHICS ON YOUR MAIL
Most modern franking machines can print graphics and customised messages onto your mail at high resolution and in full colour. Being able to add high-quality graphics directly to your mail removes the need to have it produced by a third party, further reducing costs. As well as this, you are eliminating the cost of stocking up on pre-printed envelopes.
3. IT APPLIES HIGH QUALITY LABELS TO YOUR MAIL

By purchasing high quality labels from your franking provider, labels can be automatically personalised on your mail without the hassle of having to create your own or write directly on the envelope. These labels provide a crisp, clear and smudge-free print. As long as your franking machine has its text facility enabled, you can print directly onto the labels, allowing you to include your logo and a text message of your choice!
You wouldn't turn down free advertising in other areas of your business, so it doesn't make sense to ignore the potential in your mailroom. Direct mail campaigns deliver your business material straight into the hands of your customers and you don't want to miss an easy chance to make a professional, lasting impression.
If you have any questions about direct mail, franking machines or envelope address printers, please complete the form below.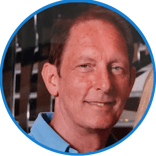 Peter Kiddle
Mailroom Specialist