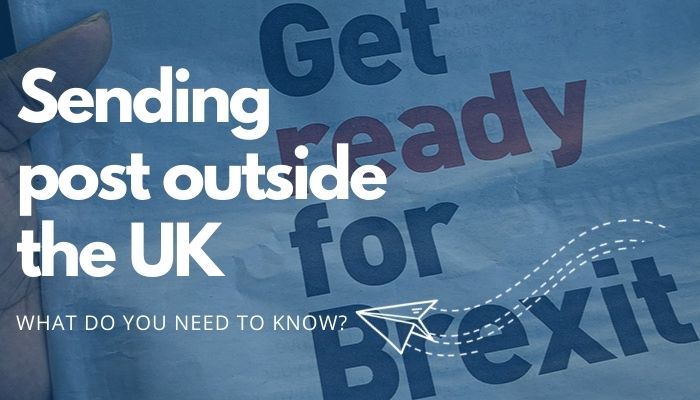 What you need to know about export and import charges
Even though the UK decided to leave the EU in the 2016 referendum, the last four years have been full of confusion and debate about what this actually means. From changes to industry regulations, movement of people, tax and customs charges, and holiday visas, the rumours have caused uncertainty and unease.
Now that we have officially left the EU (on January 1st 2021), the agreement between the UK and the EU means that we are no longer part of the EU's single market – and new rules apply. The good news is that finally, some of the ambiguities around the changes can be cleared up as decisions have been made as to what we have to do to continue to trade from outside of the EU.
One of those things is that now there may be changes to how you send items to and receive items from abroad. To help you to navigate the new rules for postage from the UK to our neighbours overseas, we have a handy guide to follow.
Sending items abroad
When sending goods abroad from the UK (but not Northern Ireland), you will now need to complete and attach a customs declaration form - either a CN22 or CN23. These are available from your Post Office, and they should be able to help you if you have any questions about which you need. Letters and large letters containing only correspondence, commercial invoices, or shipping documents do not require a customs declaration.
CN22 - Package with a value of up to £270. This is a simple form, often attached to the side of the parcel as a sticker.
Download CN22 form here
Instructions on how to complete your form here
CN23 - Package with a value of £270 or more. This contains more detailed information and is usually attached in a transparent wallet on the outside of the package, along with a CP71 form. Your Post Office can help complete this form correctly.
Download the CN23 form here
Find out more about the declaration form here
The recipient may then have to pay customs or VAT charges and a handling fee in the receiving country before they can claim the parcel. These charges will depend on the country they are sending to, the value of the item and whether it is a gift or commercial goods.
What you need to complete your documents
1. GB EORI number
It's now mandatory to have a GB EORI number to export to all international destinations. This number is unique to you and should be inserted in the VAT field on the customs declaration form (CN22 or CN23) to help with customs compliance as seen in the instructions above,

If you don't have a GB EORI number you can apply now here
2. Customs declaration forms
Electronic customs data is obtained by scanning a CN22 or CN23 customs declaration form. It is now mandatory for this to be provided for overseas items (excluding personal correspondence).

Complete the appropriate customs declaration clearly in block letters and attach it to the outside of your parcel. It is your responsibility to ensure the customs declaration includes an accurate description of the goods, their weight and value, your EORI number, the correct HS code, and whether it's a gift or commercial item. A customs declaration form is not required for customers sending items from Northern Ireland to the EU.
3. HS product codes
It is mandatory to include the Harmonised System (HS) code. This will help customs authorities identify the item, regardless of language barriers.
You can access a helpful HS lookup tool at parcelforce.com/tariffcode or visit gov.uk/trade‑tariff.
4. S10 barcode
All untracked items (excluding those containing personal correspondence only) being sent overseas from the UK will now require an S10 barcode on the outside of the parcel. This links with the information on your customs declaration form. Sheets of adhesive barcodes are available to order in the usual way. For tracking and signature services the label barcode acts as the S10.

Customs authorities abroad are increasing their compliance checks, meaning incomplete or inaccurate CN22 or CN23 forms or missing S10 barcodes may result in additional charges or items being delayed, returned or seized.
5. VAT and customs duties
All sales of goods abroad are now treated as exports. They can be zero-rated for UK VAT purposes.

The recipient may then have to pay customs or VAT charges and a handling fee in the receiving country before they can claim the parcel. These charges will depend on the country they are sending to, the value of the item, and whether it is a gift or commercial goods. Letters, postcards, and documents are usually exempt.
Import VAT and duties will not be due on items from Northern Ireland to the EU.

Customs charges: items sent from Great Britain to the EU are subject to VAT and duties in the EU as follows:

Until 1 July 2021, commercial goods sent to the EU with a value between €10* and €150 may be subject to import VAT and may incur a handling fee in the receiving country.

Commercial goods sent to the EU over €150 may attract VAT, customs duties and a handling fee.

Excise duty: is chargeable in addition to customs charges for certain products (i.e. alcohol and tobacco).

*The VAT threshold may vary depending on the country. You can find out more here
6. How taxes and duties can be paid
Franking services are provided on a Delivered Duties Unpaid (DDU) basis.

Royal Mail postal partners will collect the import VAT (and customs duty) from your EU customer prior to delivery, alongside a handling fee.
Receiving items from abroad
When receiving goods from abroad, recipients may have to pay VAT and duties.
CUSTOMS DUTY – A fee placed on gifts or goods sent to the UK from outside the EU. The duty is payable if the items are above a certain value. The charges are applied by Border Force on behalf of HMRC. At the end of the transition period, customs duties are expected to apply for goods coming into the UK from the EU
The VAT and duties will be applied depending on the type and value of the goods. For gifts over £39 and goods over £135, Royal Mail may collect the VAT and customs duties on behalf of HM Revenue & Customs (HMRC). from the recipient prior to delivery. Letters, postcards and documents are usually exempt.
Resources
UK Government policy on VAT for goods sold to customers in the UK
Find opportunities for international trade or your business
Brexit: the new rules are here
Trading internationally and need advice?
Import, export, and customs information for businesses
Want to know more?
Twofold Ltd assists businesses to overcome these challenges with our range of mailroom and data solutions. From mailroom equipment, scanning and capture, to document management and full digital transformation, contact us via the form here, or give the team a call on 0118 951 9800.
Peter Kiddle
Mailroom equipment Specialist