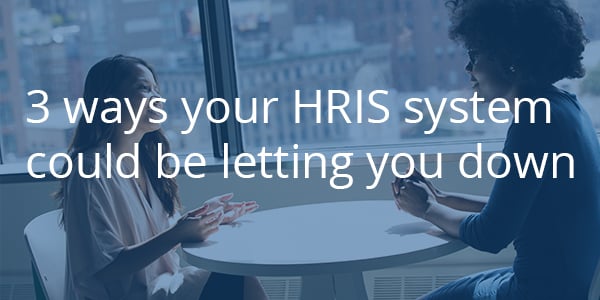 Is your HRIS holding you back?
Human Resource departments cover a whole range of duties, and depending on the size of the business, or industry the priorities for the systems will change. If you were to carry out a quick survey amongst 10 HR Managers asking what an organisation's human resource information system (HRIS) should do, you'd probably get 10 different answers. Managing everything from expenses, payroll, and benefits administration, to visas and onboarding, your organisation's HR document management system is a powerful tool … when implemented correctly.
Unfortunately, studies have shown that most organisations falter beyond the basic administration support functions.
By not using your HRIS to its true potential you're heaping unnecessary work onto your HR employees with paperwork that is both time-consuming and expensive. This also impacts your talented staff by preventing them from engaging in a more strategic role, where they could be adding value to your organisation.
The top 3 HRIS issues
The tech sprawl that results from using disconnected systems for each HR function has a negative impact on your organisation in a number of ways. Here are my top three issues:
1. Costly information bottlenecks
Without adequate integration between systems your HR department will be overwhelmed with manual, non-strategic tasks. All that time searching for, and pulling data, while switching between document management systems is both laborious and impractical.
Let's take a look at the hiring process as an example – your company may have a system that tracks applications, managing prospects, the interviews and hiring. When you hire someone, those documents from the applicant need to become part of the new employee file. If that employee is terminated, those same records need to be updated with the correct information, ensuring all system statuses match.
Your employees' data needs to be secure, and accurate and it's your HR department's responsibility to make sure that the right information is in the right place at all times – and any information bottlenecks can result in costly mistakes.
2. Employee data exists in silos
By storing and managing your employees' data in multiple systems, you're increasing the chances that you'll have conflicting information across them – leaving you wondering which to believe.
If you have separately stored and amended employee records, how can you tell which one is up to date? This is costing your organisation money every time someone needs to check, confirm, and replicate the document – all because it's been buried in a system it wasn't design for.
With a "single source of truth" for employees in your HR document management system, you can reduce the costs of errors and facilitate seamless processes across your organisation. This case management approach provides Human Resources departments with a single reliable source of information concerning an employee, and you never lose any information.
3. Your HR department may never become a strategic partner
Your HR department's role is to acquire and keep the best talent, creating strategies and working on planning for continued success. All too often that gets put to one side as they are coping with administration and monotonous tasks to simply get the job done on a basic level.
An example of this might be if a department has recently been reorganised, your HR staff could find themselves spending valuable time compiling and updating documents manually, and not taking a valuable consultative role in the reorganisation itself.
It is no surprise that numerous studies have shown that when HR departments are recognised as full business partners, they are able to deliver results that contribute directly to an organisation's profitability.
and it's not just you ...
A recent report found that 74 percent of organisations use four or more document management systems in addition to their HRIS, making the lives of HR staff more complex, and creating more tasks for your IT departments to maintain.
It's clear that human resource information systems aren't designed to cope with every need of HR departments. When you think that they are meant to deal with performance management, application tracking, onboarding, offboarding, training and development, employee surveys, travel, and much more, it would be quite a task to manage in one system. Many organisations manage these all as different functions with bespoke solutions that can't connect and communicate with each other.
Should you get rid of your HRIS system?
Absolutely not!
One way to bridge these gaps is with a robust content services platform — the "glue" that keeps other systems in place. The right solution easily integrates with your existing systems and helps them communicate, building true end-to-end automation for your HR processes.
By freeing people to focus on higher-value tasks like recruiting and building a great place to work, everyone wins.
What next?
Twofold Ltd helps overcome these challenges by providing cloud or on-premise solutions for hr document management, and managing personnel in line with gdpr regulations . Our range of services range from DocuWare for employment records management to secure scanning and capture hardware and software. Contact us via the form here, or give the team a call on 0118 951 9800 to discuss if your HR team has any challenges around GDPR or employee data management.
Chris Gubbins
Document management product specialist