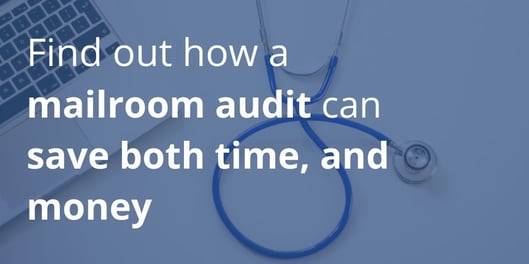 Audit your existing mailroom to uncover huge savings
Your mailroom is the heart of the communication with your customers, with inbound and outbound mail flowing constantly - keeping that relationship alive. In an era where modern technology means they expect swift responses, how you manage that mailroom is vital to your business. Both incoming and outgoing mail needs to be organised, consistent, and follow the best practice for important processes that matter to you and your customers.
Here we will explore the ways in which you can create a more organised mailroom with automated machinery which can both open incoming mail and send your post in the most efficient way possible (along with every process in between from scanning, inserting, and printing onto your post). While we are focussing on your mailroom, it's worth saying that there are circumstances when outsourcing your mail is right for your business, so if this is something you are considering, please take a look at our blog post on outsourced mail.
A Mailroom Healthcheck can identify areas of improvement
When we are asked to conduct an audit of a mailroom (otherwise known as a Mailroom Healthcheck), we like to go into your place of business at the very start of the day and track your mail as it comes in and moves through your mailroom. We follow your processes to identify improvements and suggest machinery to take the strain of manual work. There have been cases where we have seen items of mail touched multiple times where automation would reduce this significantly – saving hours of manual work and preventing costly delays to critical processes such as banking payments on time or replying to customer questions promptly.
Some areas we can identify for improvements:
Process bottlenecks
Streamlining options
Potential cost savings
Volume related discounts
Book your FREE Mailroom Healthcheck today (worth £1000) >>
You can start this process on your own by just looking at your current setup with a few points in mind, as it's often a case of not knowing that things can be different. Here are a few questions you can start with:
Is your mailroom space set up correctly?
When you plan a new kitchen, you spend time thinking about where the fridge, oven, and sink should go rather than just having them fitted wherever there is space, and your mailroom should be planned with as much thought. We have seen many mailrooms set up as just a space where the mail is processed without any real consideration to the flow of mail through the room. Simply by positioning machinery properly you can save hours of unnecessary walking, moving, and re-moving mail before and after it has been opened.
Take a look at the space you have available, consider your daily processes and map out where the mail travels and the number of touch points. Ideally you will have your internal mail, incoming, and outgoing mail separate so that you reduce errors with misplaced post and follow the same easy to follow process that flows in one direction (for example, folder inserter before franking machine, leading to your outgoing-post dispatch area). Making sure everyone has the right training, and follows the same process is essential, it can be a challenge changing old ways of working, but they will benefit everyone.
What volume of mail are you dealing with?
If you have thousands of items of mail being processed daily, then even the smallest improvement per item will make huge savings over a year. Aside from the time saving, if you're sending a large amount of mail you can take advantage of postal discounts. Franked mail sent through a MailMark franking machine will save you more than even normal franked mail (and the old franked mail is being phased out by Royal Mail, so it's worth looking at this upgrade now to start saving money). Sometimes it makes sense to have pre-printed envelopes, these PPI, or Postage Paid Impressions envelopes, can have postage discounts available, you have your envelopes ready to go without the need to frank or stamp, and you can print onto envelopes, wrapping, and labels.
Are you sending both physical and electronic post?
If you have a traditional mailroom sending physical post and your staff are sending emails, replying to customer queries, and sending out invoices, etc, this needs to be aligned. A modern mailroom should be able to both receive and send mail in the manner which most suits the customer. If documents need to be scanned, this should be done at the start of the process - and sent out to the relevant people or departments rather than stacking up paper to be distributed by hand, then scanned, sometimes printed, and scanned again.
Looking at the way you manage your mail from the very start and working out a simple process flow can save hours on a vital piece of mail reaching the right person - and in electronic form, it can be accessed, tracked, and replied to from anywhere, even more important as more of us are working remotely. At Twofold, we have the knowledge to look at the bigger picture, with both the latest machinery, and the best software to help you create the most efficient mailroom.
Is an upgrade worth the Investment?
Many businesses keep their machinery running until it just won't do the job anymore, relying on replacement parts, and call-outs to prevent the cost of investing in a new machine. But what is the real cost? Even the best machinery will have a life expectancy, and on top of that, old machinery just can't offer the same functionality, or savings provided by those made with modern technology built-in.
With a new machine that works faster and more reliably it will soon pay for itself, especially if you have a large volume going through it, not to mention being easier to use, and the possible integrations with other hardware and software.
With a folder inserter, weighing scales and franking machine fully integrated with software that reads codes to identify the contents, you have an additional layer of security - removing human error. A franking machine will save you money on every single piece of mail and can remove the danger posed by data breaches while helping with your GDPR compliance. Scanners that can integrate with document capture software make keeping track of important information a lot easier – not to mention saving space on storing paper.
Want to know more?
Twofold Ltd has over two decades' experience with mailrooms, both hardware, and software. We are an authorised Royal Mail inspector and maintainer of franking machines, and partner with world-class software solutions providers. This means we can offer advice and the right machinery or software to ensure you can manage your inbound and outbound mail – both physical and electronic.
For your FREE mailroom healthcheck – worth £1000 – just get in touch using the form below.
Peter Kiddle
Mailroom Specialist