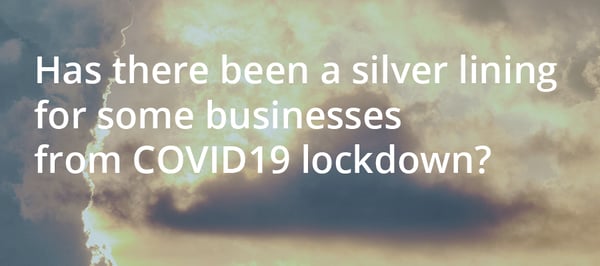 Unexpected business successes during the COVID19 lockdown?
The year 2020 will go down in history as … pretty awful … and it's had an impact on everyone from the smallest self-employed business to the biggest multinational companies. It's unclear when this will change, and it's very hard to plan ahead, but despite all the doom and gloom (and there's plenty of it), there have been some welcome positives for some businesses.
This isn't the first time world events have seen new opportunities emerge for business. The SARS outbreak triggered the success of Alibaba, when over 20 countries were impacted and people wanted to minimise human contact - increasing online sales of products. The other notable shift was the global recession in 2008, which saw Airbnb experience growth as people looked for new ways to derive an income from their existing assets - renting out spare rooms or housing they were no longer able to rent long term.
The challenge of reacting quickly to change
Over the summer when people were stuck at home on furlough or working remotely, their attention was drawn to, among other things, home improvements. Many small businesses were able to capitalise on this and promote their services online quickly to gain sales they wouldn't normally have.
Twofold has been working closely with a number of companies throughout the lockdown period and has provided them with the technical know-how to grow their businesses and experience record turnover figures for the supply of home improvement products and services.
Invest and grow
With the additional influx of business, you have some difficult choices to make, maintain the status quo and potentially risk offering a reduced service to your customers, increase your staffing level to help with your additional business needs, or invest in your business and automate business-critical and labour-intensive processes.
We have been able to identify key areas that can be automated simply and effectively, with the introduction of back office process automation that eliminates costly manual data entry, time consuming invoice approvals and late payments to critically important suppliers, you can make your business more resilient by reducing overhead costs and increased business efficiencies. Our DocuWare Digital Transformation Systems can provide a cost-effective solution to streamline a number of essential business needs
Want to know more?
Twofold Ltd assists businesses to overcome these challenges with our range of mailroom and data solutions. From mailroom equipment, scanning and capture, to document management and full digital transformation, contact us via the form here, or give the team a call on 0118 951 9800.
Watch this demo to see Docuware in action helping to manage repair requests for housing associations.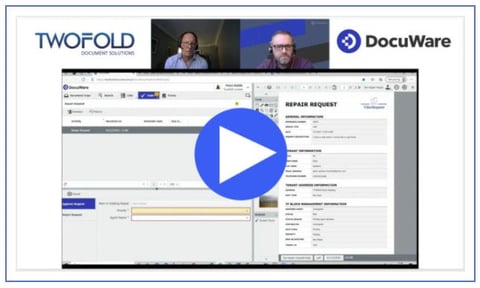 Peter Kiddle
Document Management Specialist