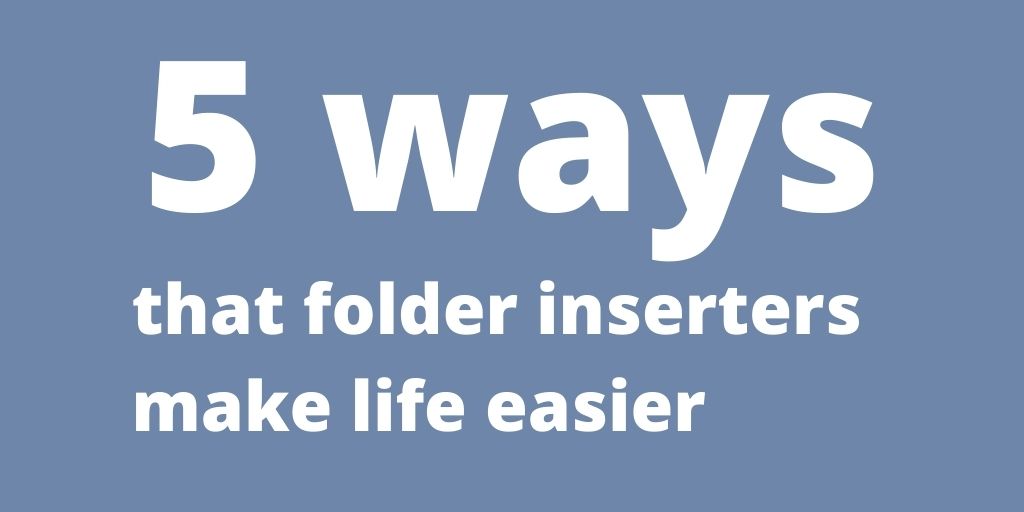 Automatically fold and insert documents to post
Top Five Ways a Folder Inserter will make life easier
Your customers expect the best, and if you can't provide the service they demand, they will go elsewhere. In this competitive environment, the pressure to deliver a great customer experience can be overwhelming. One area where you can provide a service that delivers to their expectations, gives them peace of mind, and allows for your organisation to make savings is with a folder inserter. The way in which you deliver documents safely and accurately to your customers will say a lot about the kind of business you are, and why they should trust you.
A folder inserter can help you with:
Customer satisfaction and peace of mind
Increased mailing operation productivity
Compliance with industry regulations
Document inserting accuracy
Operation expense savings
The addition of automation software to your outbound mail processes will further improve upon these. With tools that allow you to intelligently connect to your customer like never before, you gain in both your operation and in the relationship with your customer base.
Get your post out quicker
Assemble invoices, statements, and marketing materials faster than ever. Fold, sort, stuff, and seal envelopes and get the mail out much faster. Get invoices paid sooner, remove customer frustration, and free up employee schedules to have more time to spend on other important projects.

Fold and insert all kinds of materials
Our modern folder inserter machines handle many types of envelope and insert, from paper documents, marketing materials, card, and more besides. Your Twofold Ltd consultant will test your specific mail on the chosen machine before purchase to ensure the mail you send processes perfectly.

Stuff and seal thousands of envelopes an hour
With programmable settings for specific jobs, and the ability to set up multiple insert feeders and envelope stackers that automatically adjust you can set up, and leave the machine to do the work while you take on other important tasks.
Save hours every week
The saying is 'time is money', and by saving time on manual processes you can quickly make financial savings. Even a small business can save around 8 hours a week, large operations handling larger volumes can save considerably more.

Save money on every piece of mail
A folding inserter offers a great return on investment, saving hundreds of pounds in productivity and labour costs each month.
Twofold folder inserters make mail preparation easier, from small businesses to large-scale production mailing centres. We offer low, medium, and high-volume document handling solutions that provide the highest level of productivity and dependability.
Want to know more?
Twofold's hardware and software document handling solutions bring accuracy, efficiency, and reliability together in an easy-to-use solution that makes your mail assembly simple and fast.
Solutions include folder inserters, letter openers, franking machines, and software that links all of your systems together to improve efficiency, reduce errors, and improve customer satisfaction.
Peter Kiddle
Mailroom Specialist