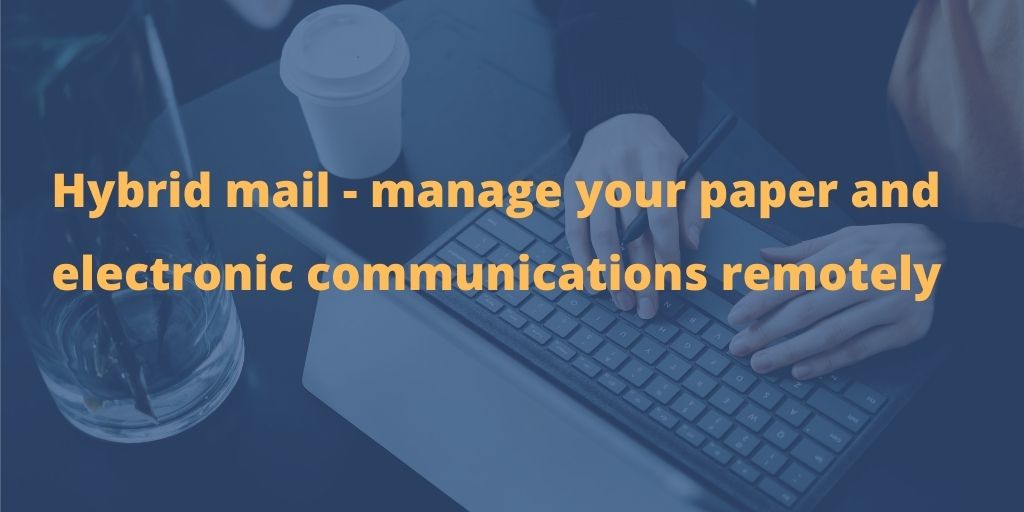 Hybrid mail - the solution for remote workers
'Are you back in the office yet, or still working from home?'
How many times have you been asked that over the last six months?
The same questions are still being asked at the start of Zoom and Teams Meetings across the country - if not the world. But the question is a good one, are you going back to the office, and an even better question … why?
What will your office look like in 2022?
If we needed proof that digital and cloud-based working was the future, it was the sudden move of entire offices as they set up workstations in kitchens and spare rooms, all while keeping up with the demands of the business. Companies had to process documents that were traditionally paper-based, but allow them to be handled electronically, across remote locations, and sent to and from customers efficiently without any disruption, and they didn't have a lot of time to smooth out the bumps along the way.
For some organisations the process was a lot more complex. Schools, hospitals, and insurance companies often deal with external systems and had to ensure that no customers, school students, or healthcare patients, missed the delivery of documents. If they did there could be some serious consequences, so security and reputations were on the line.
Some examples were:
Colleges and universities sending out communications to current and prospective students.
School students needing to access remote schoolwork when their access to the internet was unknown.
Hospitals and Government departments needing to send important documents to doctors, nurses, patients, and practice managers.
The solution for many organisations was to utilise the hybrid approach. This involved using a combination of both physical and digital channels to connect with the recipients. This had been a reliable solution for many already, and one that was upscaled quickly to meet the challenges presented by remote employees, pupils, and colleagues.
Example of hybrid mail for schools
Using a cloud-based hybrid mail service to help deliver schoolwork to students, schools were able to ensure no child was left behind while homeschooling was required in the COVID lockdowns. With normal facilities closed due to the COVID-19 pandemic, school systems faced the challenge of delivering educational materials to students based remotely who didn't have access to the internet. Using the simple-to-navigate platform, teachers could access an online portal from their homes, from here they were able to upload schoolwork for students. The hybrid mail platform could then automatically and securely send the materials to a secure production facility where they were printed and mailed to the homes of students.
Using technology to build better relationships
By removing the frustrations, and errors from trying to manage this manually, you improve the relationships with customers and employees alike. Not only that, but the efficiency gained from this approach will increase your ROI, and by giving your customers a choice of how they communicate will give you the competitive edge over those still using out-of-date systems.
As businesses shift to the more efficient digital communication routes for everyday communications such as billing and invoices, it allows you to use physical mail in a more effective way. As less mail gets sent, the materials sent in the post have a higher impact, with recipients more likely to open, and spend time reading, and engaging with that content. You need to take advantage of this space, and communicate in the most effective way, and answer your customers' needs.
The hybrid approach to mail delivery
By embracing digital, and optimising your physical mail you can reduce costs, speed up delivery and track your customer communications, tailoring them to their individual needs. Using a combination of Twofold's Process Automation and Mailing solutions, you can keep your customers informed and happy, reduce the administration strain on employees and introduce measures to improve efficiency.
Want to know more?
Twofold Ltd has over two decades' experience with document management, both hardware, and software. By partnering with world-class software solution providers, we ensure you respond and adapt quickly to the demands of business, and environmental requirements – meeting business challenges both now and in the future. The right solution for your business will ensure you can manage your documents easier, improving efficiency, eliminating human error, and allowing remote workers to communicate through multiple delivery channels
Peter Kiddle
Mailroom Specialist