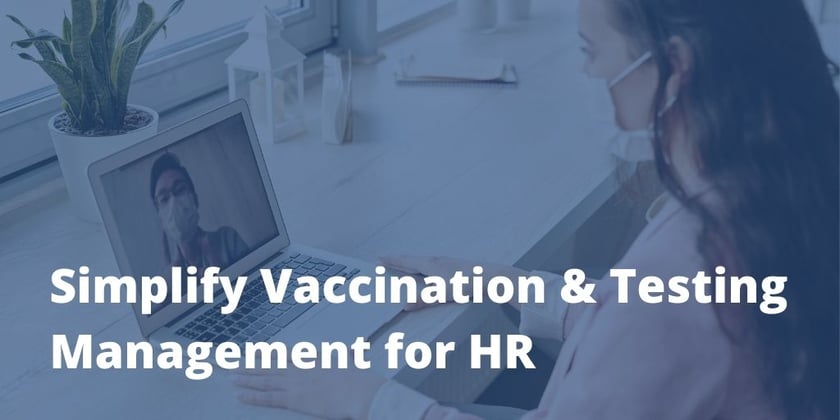 COVID Vaccination Management for H

R
When it comes to managing the changing needs of a modern workforce, your HR department is on the frontline. Onboarding new remote workers, arranging travel with ever-changing quarantine rules, and managing documents securely to comply with the latest regulations - these are just a few ways in which HR challenges have increased since the start of 2020.
Between August and October 2021 there was an increase of around 189% of job adverts requiring candidates to be vaccinated.
Along with new employees needing to have proof of vaccination, many businesses have also stated that they expect existing employees to be vaccinated. Within certain industries, this is even more important, with healthcare and hospitality needing to both protect individuals, and give confidence to customers and clients to ensure they continue to visit.
While the UK government hasn't introduced a general Vaccine mandate for employment, it did amend the Health and Social Care Act 2008 to mandate covid-19 vaccination for healthcare workers. Care home workers are now required to have had two doses of an approved vaccine, and from April 2022, this will be extended to all frontline health and social care workers – also including staff in regular contact with patients, such as porters, receptionists, and volunteers.
The monitoring of documents, testing, and keeping up to date with these latest requirements present a new challenge for HR departments.
DocuWare has a history of helping HR departments with document management solutions, and to meet this latest challenge they stepped in with a new cloud-based preconfigured solution for Vaccination and Testing Management which supports a fast, safe, regulated return to the workplace.
How does this vaccination management solution work?
The workflow begins with the employee completing a simple COVID-19 Vaccination Questionnaire form. This step-by-step form leads the employee through the process of entering the right data, attaching an image of their vaccination record or exemption information to the point where they just hit the submit button. Your HR team receives that information and keeps it on a secure file. Simple, quick, and effective. The stored data can be accessed, and if needed exported to a CSV file.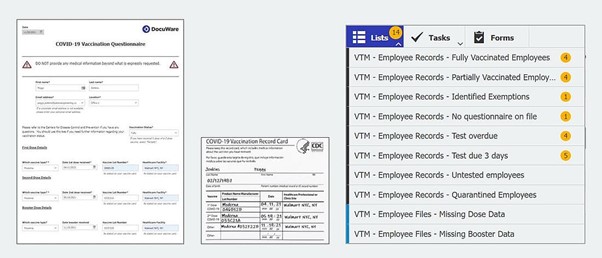 DocuWare for Vaccination & Testing Management is a simple way to automate the collection and tracking of this data giving peace of mind to employers and their employees.
Your team can easily verify vaccination status, exemptions, and oversee your testing compliance in one easy-to-navigate and secure place. Only staff with the relevant permission can access the employee health information.
Leave the sprawling, unwieldy spreadsheets behind, make sure you have access to the right information when you need it from anywhere, and remove the risk of inaccurate information being manually entered into your systems. Protect your employees' sensitive information with secure access rights and data encryption.
What are the benefits of a vaccination management system?
Verify employee vaccination status quickly
Use ready-to-go, easy-to-use web forms for employees to upload proof of vaccination and other documents
Manage weekly testing requirements
Maintain an accurate record of vaccine exemptions
Have transparency in monitoring test results for employees who are not vaccinated, sending automated email reminders and employer notifications
Securely access complete reporting
Get up and running in just one day
The urgency to start accurately managing your employee vaccination records means a speedy deployment will be essential in choosing the right solution. With our preconfigured DocuWare package, you'll be up and running in just a day, and what's more, this can be expanded to become a full employee management system. Take the ease of use, automation, and security of DocuWare to digitise and organise your HR documents for the entire lifecycle – from application tracking, hiring, onboarding, right through to employment separation. Find out more about how Twofold can help your HR teams with DocuWare, and book a demo today to see first hand how the vaccination management system works
Want to know more?
Twofold Ltd has over two decades' experience with document management, both hardware, and software. By partnering with world-class software solution providers, we ensure you respond and adapt quickly to the demands of business, and environmental requirements – meeting business challenges both now and in the future. The right solution for your business will ensure you can manage your documents easier, improving efficiency, eliminating human error, and allowing remote workers to communicate through multiple delivery channels.
Watch this demo to see Docuware in action helping to manage repair requests for housing associations.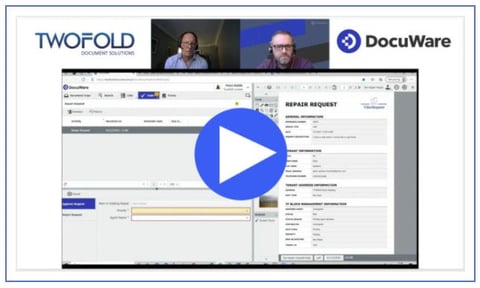 Peter Kiddle
Mailroom Specialist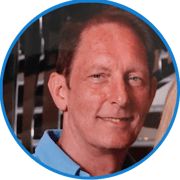 Get the latest news and updates from the Twofold Ltd LinkedIn page ...