Top Five tenant complaints
In recent years it's become a lot harder for people to get onto the housing ladder, with most young people and couples renting properties instead of buying their first home. With so many renting there is often the image of the wealthy landlord sitting back while their property simply makes them their money. The reality is not quite so simple, especially for residential properties which need a lot of time and effort to manage.
The relationship with tenants can make a huge difference to the amount of time and money spent, and stress involved with keeping a property in good shape and renters happy. Your investment will require ongoing maintenance, repairs and at times, modernisation, all of which need proper management to avoid frustration for both you and your tenant. Here we have put together five of the top tenant complaints which with good planning, can largely be avoided.
1. Timely response to maintenance and repairs
If you rent property, you can be sure that you'll get requests to carry out repairs and general maintenance. Many tenants don't have the skill or ability to carry out work – even on small tasks – so setting out rules around their responsibilities, and yours, are vital to make sure work is done correctly, and to make sure it's reported.
There will be some basic maintenance that you'll expect your tenant to take care of, such as replacing light bulbs, basic fuses, etc, but faults with electric, plumbing, and other safety and security issues such as doors, windows, and locks are for the landlord to resolve. What's more, these need to be arranged to be fixed by an authorised and certified expert, and any problems that can cause health issues to your tenant, such as mould, damp, and heating, need to be addressed as a priority.
It is in your interests to keep your property in good condition, so encourage your tenant to report as soon as possible, and let them know you have it in hand.
Watch our webinar on tenant complaint handling now >>
2.

Landlord ignoring tenant requests
This is a complaint across all size of property rental business and it might be that the amount of work needed to keep on top of tenant requests for smaller organisations is too much, or landlords may not feel the need to respond. Both will leave the tenant frustrated, annoyed, and cause friction in the ongoing relationship.
Make sure you can manage tenant requests, keep a track of them, and respond with progress. Make sure you give your tenant the relevant information so that they know how to contact you to make sure you can begin that process.
3. Landlords not respecting tenant privacy
It's important to remember that while you may own the property, it is your tenants' home. They pay rent to have a safe and secure environment, and that means you need permission to enter – or at least give a fair warning of a visit or inspection.
If you enter too frequently or without informing them, it can be seen as harassment and an offence. Unless there is an emergency a landlord should always give at least 24 hours' written notice that they need to enter the property, and this should always be during reasonable hours.
4. Inconsiderate, 'difficult' neighbours
While the people living around your property are largely out of your control, and noisy neighbours are not your responsibility, you do have a duty of care so your tenants will expect you to assist with resolving this issue.
'Bad neighbours' could be – loud music, constant TV noise, uncontrolled pets, disrespecting property boundaries – and it's in your interests to both protect your property itself and your investment. You could investigate soundproofing, contact the local council if rules are being broken – or get in touch with the neighbours' landlord to seek their assistance. You should ask your tenant to attempt to resolve things themselves, but if needed you should be willing to assist.
5. Pest control
Your tenants expect to have a home free from bugs, rodents, or other vermin, just as you would. If there is a pest problem at your property it needs to be dealt with immediately as it's a health risk for your tenants and could result in property damage – such as fire from chewed cables, or water damage from rodent access areas.
Call a pest control expert, and arrange a visit, making sure to follow up to ensure that the problem has been fixed. If it's likely that an infestation will occur again, put regular inspections in place to prevent it, and limit further damage.
Some basic rules when dealing with tenant complaints
You may have great tenants you know well, or perhaps you manage a large portfolio of properties, but no matter the size of business you need to tackle renter complaints promptly and follow the correct procedure. Even the best tenants can become unhappy if they feel ignored. By following some simple rules, you can protect your property from damage and keep your renters happy, even if the problem is large and difficult.
1. Never ignore complaints
When your tenant gets in touch with a complaint, reply to let them know you are listening, reassure them that it's important to you, and that the appropriate action will be taken. Leaving them to solve the problem can lead to DIY disasters, or worse, health and safety problems you are liable for.
2. Be clear with communications
Clear communications with your renter can speed up the process. Make sure you fully understand the problem, and if you don't, then ask until you are both happy that the issue is understood fully. This way a solution will be found quicker and reduce frustration on all sides.
3. Really listen, and understand
Your tenants want to be heard, but also have you understand how they feel. These are important matters to them, so being dismissed as a minor problem or irritation can cause bad feelings and distrust. Consider how you would feel if you were in their position.
4. Keep your tenant informed of progress
You may be working away to solve their problems but unless you tell them, they may not know. Keeping them informed will ease their stress and keep relations good. Be honest with time frames and update them on changes.
5. Avoid repeating behaviour that has caused previous complaints
Learn, and adapt to individual cases, and avoid repeat problems. Identify common or regular requests and if needed be pro-active with checks to avoid the renter requests before they are needed.
How can you simplify your tenant requests and avoid mistakes that result in missed repairs? By automating the process from the first touch by your customer to the completion of the repair you can log, track, and audit the entire process.
With the average tenant winning over £1200 in compensation for disrepair claims against landlords' failure to act quickly on problems with properties, you need to put measures in place quickly. To rectify problems that pose a potential danger to the tenant's health and safety you need to ensure you can keep track of all requests. With a document management system from Twofold that had a proven track record of success, get in touch today to see a demo.
Watch this demo to see Docuware in action helping to manage repair requests for housing associations.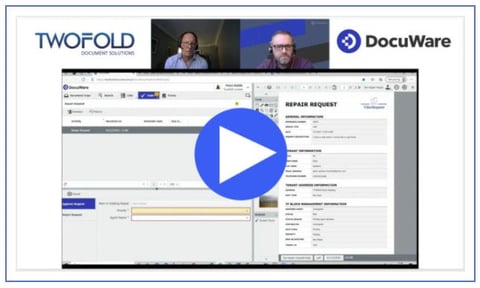 Want to know more?
Twofold Ltd has over two decades' experience with document management, both hardware, and software. We partner with world-class software solutions providers to offer advice, and the right hardware or software to ensure you can manage your customer communications with automation to improve efficiency and remove human error.
Sign up for our webinar to see how you can easily manage all of your tenant complaints and manage the progress of requests.
Peter Kiddle
Mailroom Specialist