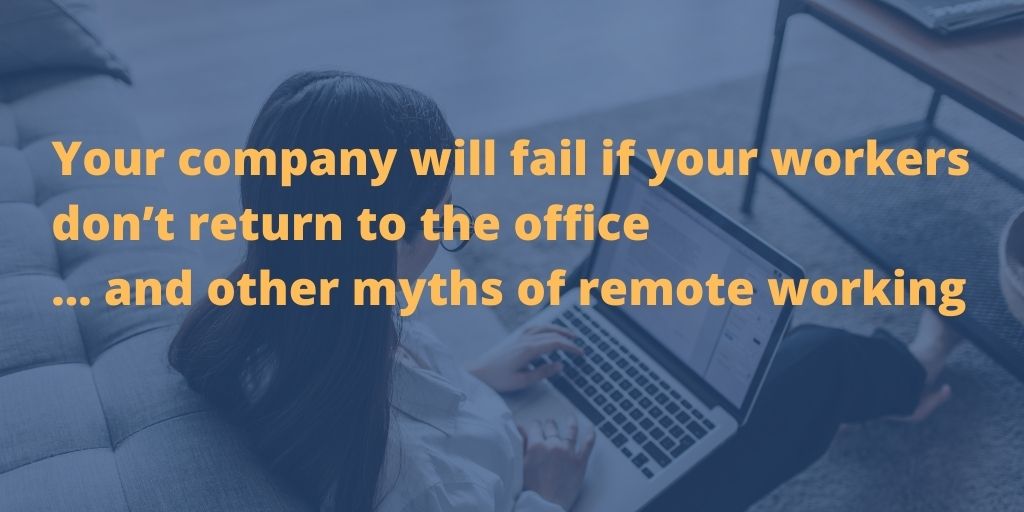 Your company will fail if your workers don't return to the office …
... and other myths surrounding remote working
From those first few weeks and months when we all left the office to work from home, uncertain of when we'd return, there is now some degree of stability. Some have returned to the office, others have remained working remotely at home, while others have found a balance between the two that works for them and their employers. What we can be certain of, is that the future of work is somewhat different from that pre-2020.
Don't get stuck in the past – or in the office - embrace a new way of working
The technology to enable remote working existed before the pandemic, but businesses already on track for digital transformation had the upper hand, enabling a quick shift towards a more digital-based model. However, even with the evidence of the last two years - with remote workers successfully keeping businesses operational - there is a belief among some that we need to return to our offices and pick up where we left off back at our desks. The reasons being presented to employees to flock back into the office have been as varied as relating to mental health, productivity, and lack of team spirit, so let's take a look at the research and pull out a few truths from the myths …
Myth 1: Remote workers are less productive
This probably relates more to the belief that without supervision, people will try to do the minimum work possible. Add to that the distractions of a home with children, housework, and home deliveries and it can set the mind of any employer into a spin thinking about the hours potentially spent not active during the working day.
The reality is quite different though, and a recent study revealed that 94% of businesses reported productivity was the same or higher with remote workers. It could be argued that there are at times more distractions in an office, more opportunities to be late in, and more reasons to call in sick. But whatever the reasons, it's clear that individuals seem more than able to work without being monitored by superiors throughout the day.
Myth 2: Remote workers can't work as effectively or efficiently
This one really comes down to the employer providing the right equipment and investing in the right technology to enable a more digital way of working. This really goes beyond remote working as a 'reason to digitise' as there's a genuine demand from customers to communicate via multiple channels. It's true that your employees cannot deal with paper-based documents so easily from home, but with cloud-based technology at the centre of your document management you'll see an improvement in your business and your customer satisfaction.
You'll have full visibility of mail and documents, better security, and improved collaboration between departments. The good news is that these automation tools are both easily available, and affordable. They can be installed and be up and running in a very short space of time, offering a whole range of benefits to the business, employees, and customers.
Myth 3: Remote work prevents a work team spirit
Your business works best when you have a team that works well together. That means one that gets on and feels part of a 'company culture'. When this is working, you tend to keep good employees, they grow with the business, introduce other key employees, and you keep down costs associated with hiring and training. But does this mean all that is lost with remote working?
In a survey carried out by Gartner, only 24% believed their company culture had suffered as a result of remote working. More interestingly, 76% expressed the opinion that it had improved … with technology such as Microsoft Teams and video calling software, employees connected in a way not possible in the office. They were able to interact in a different way, and deeper bonds were formed in the more informal setting of the home office. With set meeting times, scheduled breaks, and even online games to break up the day or end the working week, it is arguably a more sociable and relaxed way to bond, without the pressures of the office environment (or having to book meeting rooms).
What does all of this mean for the future of work?
Although we aren't quite there yet we will eventually be able to look back on the pandemic as part of history, but there are already some important lessons from the way Covid 19 impacted the world of business. One thing we can be sure of is that now that remote working has been proved to be successful, and businesses globally have invested in the technology to enable it, it's here for good.
That doesn't mean a future with empty offices with everyone working remotely – there will be a natural balance that works. It's estimated that compared to pre-pandemic figures, three times the number of employees will be based remotely by 2025. Many organisations are already accepting the future of work and investing further in the technology and culture change associated with remote working. For those that have made the steps towards that change, they will be leaps ahead of the competition when they finally accept that this change is permanent.
Want to know more?
Twofold Ltd has over two decades' experience with document management, both hardware, and software. We partner with world-class software solutions providers to offer advice, and the right hardware or software to ensure you can manage your customer communications with automation to improve efficiency and remove human error.
Watch this demo to see Docuware in action helping to manage repair requests for housing associations.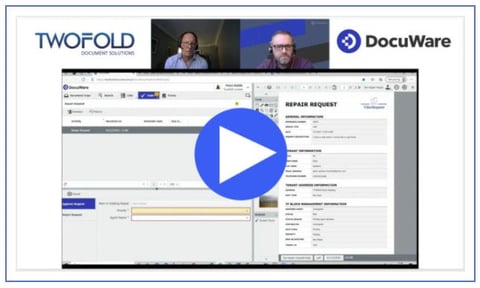 Peter Kiddle
Mailroom Specialist