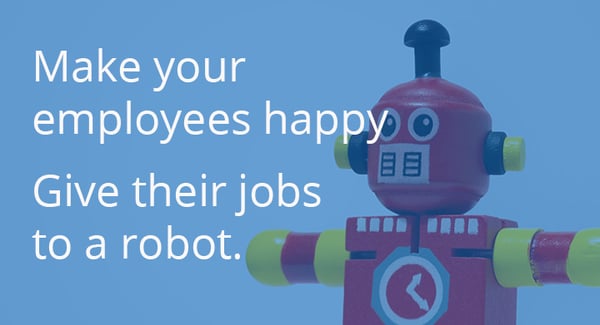 How to make employees happy - replace their jobs with a robot!
... What?
Yes, replace all their boring repetitive jobs with a robot.
A recent survey showed that only 1% of employees were unhappy after their companies had deployed Robotic Process Automation.
In fact, 93% of firms reported an uplift in employee satisfaction. This makes complete sense.
I challenge you to do the following; write down all the tasks you perform on a monthly basis that are boring, repetitive and add no value. Now review the list, take off the names of your colleagues that you put on here as you were just being mean. Now imagine a life where you get a digital personal assistant whom you can hand off all the boring work to.
Watch the webinar now, and see a robot being built live>>
That is exactly what it is like for companies that deploy Intelligent Automation well. Their staff are allowed to be humans and the drone work is given to drones. So you get a motivated, value adding team of people who can all focus on making your organisation world class – what isn't to love about that!
Make your team happy and buy them all a digital assistant – you won't regret it.
If you have any questions about RPA, please complete the form below.
Tim Miller
Digital Transformation Expert