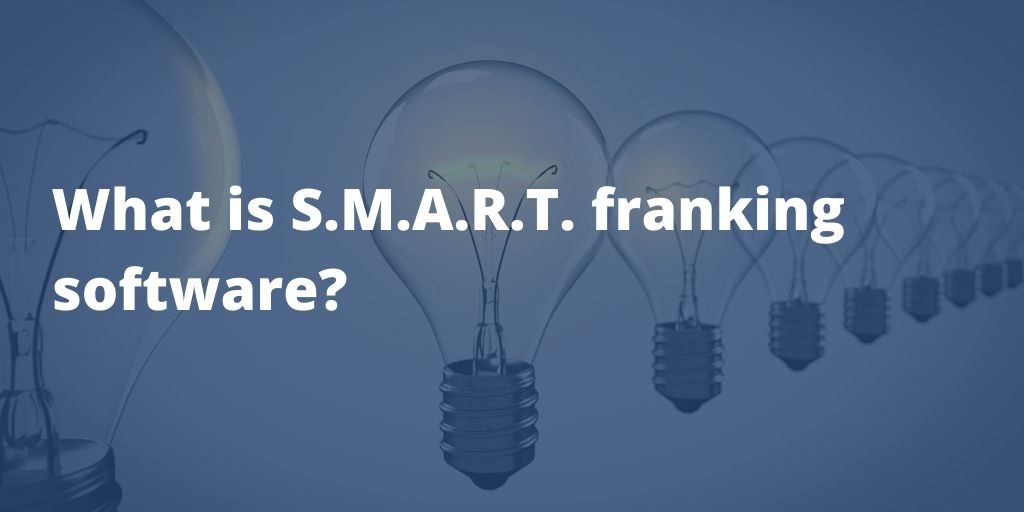 Franking software with SMART features for posting parcels
If you're posting mail from your business, you'll already know that a franking machine offers many advantages over stamps – saving time, money, and inconvenience being the most valuable. The advancements in franking technology in conjunction with Royal Mail with smart franking machines that track VAT, and MailMark franking have increased the ease with which you can deliver important post to your customers.
The next step in this is S.M.A.R.T. franking software. This all-in-one software solution is compatible with the latest range from Twofold Ltd – the TFm iX-3, TFm iX-5, and TFm iX-7, and ideal for anyone posting parcels from their business.
So, what is S.M.A.R.T. franking software?
To start with let's explain what it means, Shipping Mailing Accounting Reporting Tracking (pretty handy, someone in marketing was happy with that). This means that your new TFm iX franking machine, with its software-enabled can streamline processes, and reduce the equipment footprint in your organisation. This is just the start of smart, as new releases automatically update with new features ensuring you always have the very latest and best at your fingertips.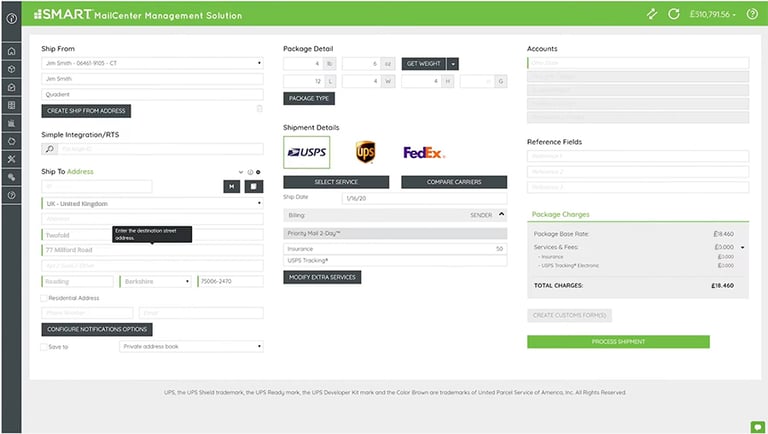 S.M.A.R.T. Shipping
The innovative shipping software application allows you to process your parcels using Royal Mail as normal, but with less hassle. No more filling in Royal Mail Special Delivery books, fast processing, and user-friendly interface that can be used even if you're not in the same location as the franking machine. Unlock your franking machine's potential to meet your mailing needs.
Another feature our customers love is that all parcels get confirmation of delivery from Royal Mail at no extra charge, so you'll know that they got there, and when.
S.M.A.R.T. Reporting
Have full visibility of mail usage, get real insights into your costs and volume of use. With account level as standard and exportable for use by your finance department for reports and accurate budgeting. You'll have more control over your spending, with real data.
You can generate your postage reports for:
Mail class
Weight break
Ascending and descending register value
Account/department
Operator
Cost centre
Pre-defined or custom time periods
and more!


S.M.A.R.T. Remote Control
The new S.M.A.R.T. software allows you to manage your postage even when you're not in the mailroom. With a laptop and the software loaded up, anyone given the access to use it can set up and print, easing the workload in the mailroom. With the software on the laptop the full reporting features are accessible, and the user-friendly interface means you'll be set up straight away.
Take a look at the S.M.A.R.T. franking software in action.
Mailmark – make savings on franking
With Mailmark you'll always be paying the lowest tariffs, saving almost 30% over the cost of stamps, and cheaper than standard franking. If you have an older franking machine it's worth looking at a new machine now, as not only will you be saving money on every item you post, but Royal Mail is making Mailmark the standard from the end of 2022, meaning they will no longer accept post with the old 'town and crown' mark.
Get your FREE mailroom audit, worth £1000 >>
Want to know more?
Twofold Ltd has over two decades' experience with document management, both hardware, and software. By partnering with world-class software solution providers, we ensure you respond and adapt quickly to the demands of business, and environmental requirements – meeting business challenges both now and in the future. The right solution for your business will ensure you can manage your documents easier, improving efficiency, eliminating human error, and allowing remote workers to communicate through multiple delivery channels. To see regular updates and news, just follow us on LinkedIn.
Peter Kiddle
Mailroom Specialist