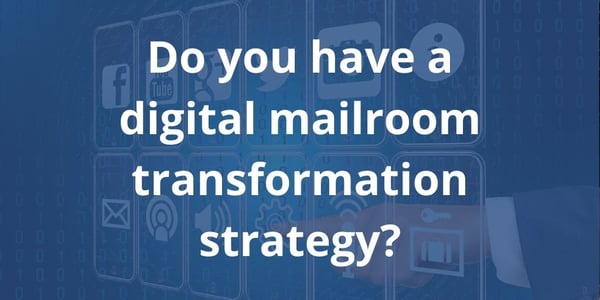 Businesses are under pressure to change
It goes without saying that 2020 has thrown a few challenges at businesses and continues to do so as the repercussions of COVID19 moves across all industries. With businesses closing, losing customers, employees working from home, and the need to react quickly to change. It's crucial that enterprises implement efficiency and cost savings measures to remain resilient in the changing market conditions.
The mailroom is an area that is overdue for digitisation, and when traditional paper-based methods of document handling and digital processes are combined, the outcome can be transformational.
Businesses who have already embraced a digital strategy will find it easier to adjust, as others struggle to use their resources in the most efficient way to overcome the disruption.
How does document management software improve security?
Your document management software simplifies, organises and automates to make manual tasks a thing of the past, making your workers' jobs easier and more meaningful.
Structured data becomes accessible, searchable, and accurate
No information is overlooked, with the right information provided at the right time
Documents can quickly and securely be shared between employees and customers
The mailroom is central to your digital transformation project
Document Capture
Even though many organisations will be aware of the concept of the digital mailroom, most will be operating with systems and processes that are primarily onsite, and physical. The digital mailroom is much more than simply digitising paper and electronic mail documents, it's the handling of all documents from all channels – such as paper, email, SMS, web form submissions. In whatever way your customers prefer to send you files and data, you need to be able to process those communications effectively.
Two of the ways organisations have shifted, are automation, and outsourcing activities. Both of these digital mailroom solutions will lighten the workload demands and prevent burnout of a reduced workforce (many of whom will not even be in the office with access to support), while keeping security and compliance in place and processes auditable. Those businesses who maintain continuity in uncertain times and can offer reassurance to employees and customers will be those who not only survive but flourish as others fall by the wayside.
Mailroom transformation
If capture sits at the heart of your digital transformation, then the technology must not only be capable of doing the job but scaling with your business. There have been tremendous technological advances in the way data is captured, and when combined with robotic process automation (RPA) for the handling of that data, many organisations have transformed and realised growth in ways not possible without them.
Intelligent automation
The latest intelligent capture software uses optical character recognition (OCR), and converts the data so that it can be classified, enhanced with metadata, and validated before being entered into automated workflows, before being delivered to the right destination. This exciting and fast-moving technology has caught the attention of businesses globally.
When these automations and workflows for notification and approvals work in harmony with the more traditional aspects of OCR - such as de-skewing, de-speckling, image rotation etc, - then you really do have the tools to manage paper, handwritten, electronic and form filled data with ease.
Outsourced processes
When you incorporate outsourcing to your digital transformation you add can an additional layer of expertise, technology and flexibility which can be put in place almost instantly. This transition to a digital mailroom, taking advantage of the resources of third-party experts can enable your business to achieve a companywide digital transformation with reduced investment and time to implement.
By outsourcing essential processes, you can benefit by reducing costs, increasing your flexibility to scale and allow access to technology without investment. Some businesses prefer this, while others like to keep the control of data within the business with trained staff who can react quickly to the business needs.
Paperless … or less paper
Digital communication has become the favoured option for customers, and the easiest to manage within a business, so it won't be a surprise to learn that in nearly half of organisations, 50% of processes are now digital. The businesses that embrace a digital document management system for business processes will see improved customer service, and more efficient processes for employees.
Working from home – access to data
Recent world events have only accelerated his, with home workers needing access to important documents, printing, sharing, and archiving files. Even though many organisations have been forced to adapt quickly to continue in business, this is likely to remain a long-term approach for businesses.
As exciting as this new digital world is, paper documents are still vital to the daily running of your business, and there will be letters, parcels, packets, and legal paperwork that need manual processing. The number of packages being sent through the mail is increasing as people shift to online shopping rather than visiting physical stores, and employees will often have personal items delivered to their place of work. As a business, you are still responsible for the safe handling, recording, and data collection of this incoming mail.
Direct mail has also seen a renaissance with marketers attempting to cut through the digital noise and avoid an instant delete from an email inbox, and there is certainly evidence to suggest that a physical mailed communication gains a higher degree of engagement.
With this in mind we should not turn our back on the paper-based world but embrace a system that combines both the physical and digital seamlessly.
Security and Compliance
Understandably, the priority for businesses through 2020 has been to become agile to the changes in working, and to survive the strain on resources. While these are undoubtedly important, the security and compliance of the data handling within your organisation is also vital. You may not be seeing the same number of articles full of potential horror stories surrounding GDPR, but that doesn't mean that those regulations have gone away, or that you aren't liable for any infringement.
In order to fully comply with privacy and security regulations, you need to review your processes for capture, storage, retrieval, and disposal of Personally Identifiable Information. Doing this properly relies upon converting your documents accurately into structured data to enable automatic detection of this information at every point of the process.
Benefits of a digital mailroom
There are many benefits to embracing the digital mailroom, not least of which is having the opportunity to review your existing processes to enable a new and more efficient way of working.
At a time when the workforce is changing, demanding more flexibility with hours, and remote working, there could not be a better time to take advantage of digital working to reinvent those processes around the needs of both employees and customers.
You will also have the ability to generate invoices more quickly – resulting in faster payments, and complaint handling can be managed more efficiently, improving satisfaction levels, improving retention levels of staff and customers and improving the reputation of the company.
Some of the ways you can benefit:
More efficient invoice processing
Reduce paper usage
Managing staff roles
Secure, auditable archiving
Reducing storage space
With intelligent capture and robotic process automation you will see labour costs reduced, human error eliminated and gain the flexibility to change to unexpected events such as the need for remote workers to have the same level of access to files and documents.
What next?
Twofold Ltd assists businesses to overcome these challenges with our range of business software solutions. From secure scanning and capture, to document management and full digital transformation, contact us via the form here, or give the team a call on 0118 951 9800.
Karen James
Digital Mailroom Specialist