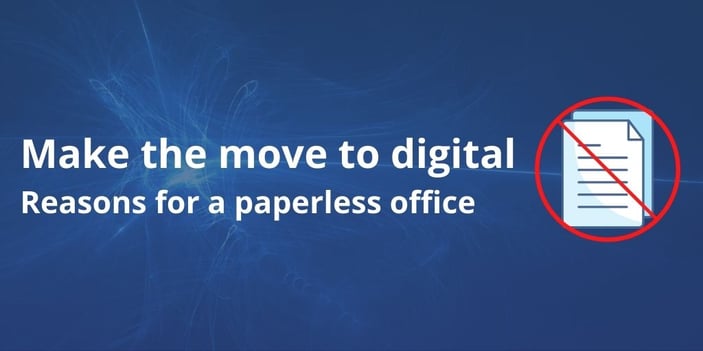 Reasons to join the digital revolution
Moving your processes to a more digital, automated process has many advantages, and it would be easy to just accept this without question. At Twofold we are paper and data management specialists, working with businesses to manage processes in the most practical and efficient way. This means that we always offer the best advice and the right approach to any changes - paper or otherwise. With this in mind, why should you go paperless?
Perhaps the most compelling reason to digitise your communications is that your customers expect it, and it allows you to build your processes around their needs, improving their experience. By converting all your files to a digital environment through your document management system you can easily manage, store, reply, and archive communications irrespective of how they originated. However, the advantages go well beyond improving the customer experience, as your systems become more efficient, you gain visibility, and your employees can access information remotely.
Align with customer expectations
Allow remote workers access to documents
Reliable storage and retrieval
Save storage space
Reduce human error in document handling
Industry specific software or workflow based?
While there are document management systems designed with a specific industry in mind, for example law firms or healthcare organisations, the challenges presented are the same. By the same token, the advantages to be gained from a document management system are universal, even if the various components are arranged differently within them. Whether you work in finance, healthcare, or manufacturing, your need to follow processes, simplify workflows, and meet compliance regulations will be of great importance.
Of course, your digital transformation process changes won't simply swoop in and solve all your problems with a click of a button. It takes planning and the right approach along with the right software - but the first step to success with digital workflows is to assess how you do things now. This assessment will allow you to see what's working with your current paper-based processes, what you need to keep things working, and highlight improvements before you plan out your new digital workflows.
If you have well-documented processes, then moving across to a digital system will be a lot easier, however, many organisations have poor or outdated documentation. With a fragmented understanding of how systems work between teams and departments, this can be a challenge to create your new workflows – but it is also an opportunity to improve, and better understand the needs of other teams.
3 Top Tips for moving from paper to digital
Talk to each other. Define your list of stakeholders and the actual day-to-day users. These are the people who know the process being followed rather than the one that managers think is the process.
Start with what you're doing now. Keep as much as you can 'business as usual' when mapping out your digital workflows. When changes or improvements are suggested, make sure they are reviewed by everyone involved. If changes are made – make sure they are fully documented so that any issues further down the line can be acknowledged as due to the new platform or the new process. DocuWare has a handy free process planner to help you manage your transition from manual to digital processes.
Test, and assess again. Once you have your new processes in place, test and be aware of new discoveries, and optimisation. You may be able to eliminate steps, improve communication or access to teams, but remember to check with users, document the changes, and be ready for more feedback to make further changes.
Want to know more?
Twofold Ltd has over two decades' experience with document management, both hardware, and software. We partner with world-class software solutions providers to offer advice, and the right hardware or software to ensure you can manage your customer communications with automation to improve efficiency and remove human error.
Watch this demo to see Docuware in action helping to manage repair requests for housing associations.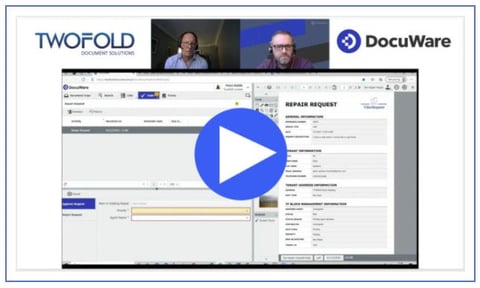 Peter Kiddle
Mailroom Specialist