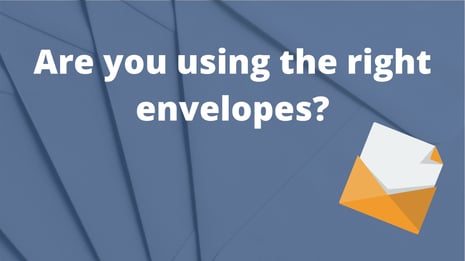 The right envelope needs to do more than just fit the contents
Take a read through this quick guide to the envelopes available from Twofold Ltd, and the most common types used for different purposes.
For most of us, choosing an envelope probably doesn't go a lot further than 'will this letter fit inside?' or 'how much will it cost to post this?', but if you're posting mail regularly, there really is a lot more to consider to help you to choose the right envelopes for your business.
---
---
Research has shown coloured envelopes are 9 times more likely to be opened than a white or manilla one
---
Envelope size
You may not be aware, but envelopes come in standardised sizes, just like paper. Many of these are based around fitting a sheet of A4 paper inside neatly, either unfolded or folded in half, or thirds.
DL – 110 x 220mm. One of the most common envelopes used. This envelope requires standard 1st or 2nd class postage stamps. A sheet of A4 paper folded twice fits neatly inside.
C6 – 114 x 162mm. These envelopes are designed for A4 paper folded into equal quarters. These are also designed for A6 pieces of paper and card, A5 card and paper folded in half.
C5 – 162 x 229mm. This is the largest size envelope that can be used with standard 1st or 2nd class postage stamps. You will still need to check the weight of your envelope with its contents to ensure the right postage, which is easily done with a franking machine and scales. A sheet of A4 paper folded once in half, or an unfolded sheet of A5 paper fit in this envelope.
C4 – 324 x 229mm. This size of envelope is known as Large Letter for postage using 1st and 2nd class stamps. As always, this will depend on the contents and weight of the package, so check with scales and a postage chart to make sure. An unfolded sheet of A4 will fit in these envelopes – ideal for important business documents.
---
---
Envelope weight
The weight of the envelope refers to the thickness of the paper. This can be an important factor in the decision when choosing your envelope to create the right first impression, and to protect the contents while they are out for delivery.
80gsm. A fairly lightweight but reliable envelope, ideal for sending invoices and receipts and everyday mail up to three sheets of A4.
90gsm.

A stronger envelope with more opacity, making it more secure for sensitive contents, capable of safely sending up to fifteen sheets of paper.

100 – 110 gsm

. These are a thicker envelope, perfect for letterhead correspondence to make a great first impression.

120 – 130gsm

. These are strong envelopes, capable of securely holding bulkier contents and brochures through the post.
Envelope colour
When you want to stand out and be noticed why not go for a coloured envelope? It may not always be right to choose bright colours, and white and manilla remain most popular for standard business post, but for marketing, a coloured envelope can really get noticed. A coloured envelope will really stand out among a pile of letters on a desk, and in fact, research has shown that they are 9 times more likely to be opened than a white or manilla one. If you want to make sure that your brochures or marketing materials you've worked hard to put together get seen, you should consider making this bold colour statement.
Seal your envelope
You need to make sure that the contents of your post stay inside safely until they reach the recipient. Depending upon what you're sending, and how you're filling the envelope, you have three main choices to seal your envelope.
Gummed – This is the most common type of envelope seal. The traditional 'lick and stick' where a layer of water-soluble adhesive is on the flap, which is moistened then sealed in place. These are also the envelopes you'd use in your folder inserter machine, referred to as 'machine compatible'.
Peel and Seal – These have tape with a removal strip to reveal the gum for sealing your envelope. These need to be done manually, so are more labour intensive and not suitable for large mail outs. They do have a longer shelf life than gummed envelopes however.
Self Seal – These envelopes come with gum applied to the flaps that are pressed together to seal securely. They are quick to seal but do have a shorter shelf life. These are often sent out to customers as return envelopes and the seal can be considered an additional level of security as once sealed, the envelope cannot be opened without tearing the flap.
Type and style of envelope
The type of envelope you need will depend upon your business, your customers, and the contents you intent to send. Among your considerations could be, are the contents confidential, fragile, or bulky.
Pocket Envelopes – The opening on these envelopes is found on the short side, and these are most frequently used for franked mail, next day post, and receptionist / office use.
Wallet Envelopes – These open along the long side of the envelope and are the most commonly used type. These are the type used in folder inserters and used for mass mailing.
Banker Envelopes - Banker envelopes have a diamond shaped flap on the long edge of an envelope. These are most commonly used for greetings cards, personal letters and invitations.
Window Envelopes – These can save time and money as there is no need to frank or label the envelope as the address can be viewed from the contents. They are also used for variable data software sorting software when sending large volumes of mail.
Gusset Envelopes – These are preferably a C4 sized expanding pocket envelopes, used to send large documents, catalogues, bulky paperwork, and reports.
Padded and Bubble Lined Envelopes – These are frankable padded envelopes, often referred to as 'jiffy bags', these are used to send non-paper goods and samples through the post to protect them. They are also lightweight so even with the added protection they help to keep postage costs low.
Board Backed Envelopes – As the name would suggest, these are envelopes with a cardboard backing. These protect important documents, certificates, photographs, books, or magazines without bending or creasing the contents. These will normally have the 'Please do not bend' text printed on the outside.
Security Envelopes – These are a range of secure envelopes that protect all documents enclosed, some are tamperproof with tear resistant paper, and at Twofold, we have our unique CheckSecure envelopes. These CheckSecure envelopes have a dark opaque printing on the inside to prevent the contents from being read without opening – even if fraud sprays are used to attempt to render the paper transparent.
Polythene Envelopes – These are thick, strong plastic envelopes. They offer a lot of protection while being lightweight and can be used in conjunction with a padded envelope for additional protection. These are used frequently for sending medical, financial and secure documents or samples. The waterproof plastic protects from rain or other damage while in the post.
See the full range of envelopes available today here.
At Twofold Ltd we sell and lease mailroom equipment such as franking machines, folder inserters and letter openers to help you save time and money, and supply all consumables to keep your business running, from envelopes, to ink and sealing fluid. If you have any questions about envelopes, have any bespoke size or overprint requirements please don't hesitate to call me to discuss it. We can send out standard orders for next day delivery in most cases and can even save you more money with large orders utilising our storage and call off facility. Email me on envelopes@twofold.co.uk, call on 0118 951 9800 or simply complete the form below and I'll be in touch to help.
Matt Riley
Envelope product specialist