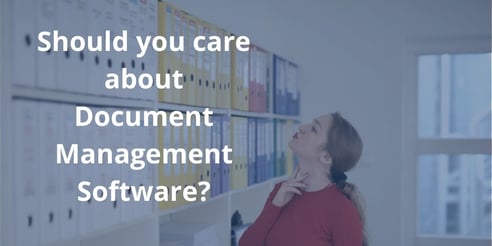 Information management simplified
Some businesses can become complacent, and the 'if it ain't broke, don't fix it' mentality can prevent, or at least delay the adoption of a document management solution. However, as the competition embraces digital transformation, many of these businesses will be left behind and may even disappear altogether.
A document management system will streamline, simplify, and improve your existing processes. Efficiency is a fundamental concern for businesses of all sizes and across all industries, and by implementing document management software alongside state-of-the-art mailroom equipment the benefits will quickly be realised.
Document management software revolutionises information management, to enable you to:
Automate your existing processes and improve efficiency
Give remote workers access files from smartphones and tablets
Store, share, and retrieve millions of documents in seconds
Protect confidential documents and allow access to specific users
Safely store and backup with the cloud for disaster recovery
What does document management software do?
As the name suggests this software manages your documents, but what is involved with that? The process begins with incoming documents from paper and electronic sources. Paper documents, forms and records need to be captured and converted to electronic files. By converting those paper documents, you remove many obstacles, creating efficient processes. You'll speed up the distribution of documents, prevent lost records, and allow off-site workers to have access to files in moments.
All document management systems should have five basic components:
Capture tools to enter data into the system
Secure and organised folder structure for file storage and retrieval
Apps for desktop, and mobile for easy access from any location
Documents protected by user permissions for authorised access
Workflow automation to replace manual filing and approval
Components of a document management strategy >>
What next?
Twofold Ltd assists businesses to overcome these challenges with our range of business software solutions. From secure scanning and capture, to document management and full digital transformation, contact us via the form here, or give the team a call on 0118 951 9800.
Karen James
Document Management, Twofold