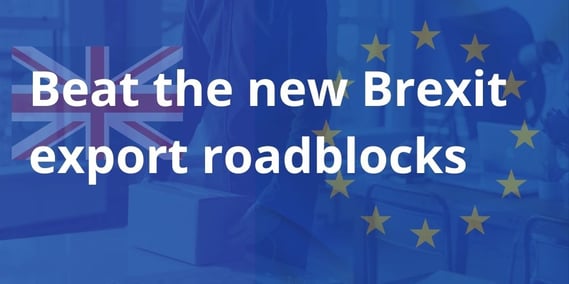 Are you facing challenges with the new rules for export?
Since Brexit finally came into effect on 1st January, the news for exporting goods from the UK has seemed pretty grim. With images of hundreds of lorries queuing up waiting to be processed, and stories of spoiled goods not reaching their destination in time. There are undoubtedly very real challenges ahead for importers, exporters, and logistics companies, and this is something we are hearing from companies contacting us to help solve some of these problems. Among the issues being faced, some typical examples have been:
An increase in documents needed, and shortage of forms needed for just-in-time supply chain
Shipments being delayed or cancelled because of incorrect documentation
Hiring extra staff to re-key customs data and handle related customer service issues
Although we just hear the bad news, there are some companies that have managed to meet these new challenges by utilising Intelligent Automation to overcome the blockages caused by the additional documentation and procedures. So if you are one of those companies now trying to find a way to beat the Brexit Roadblock and come out the other side, what do you need to know about Intelligent Automation?
Read our guide to posting to the EU - import and export charges >>
Too much new paperwork?
Even though businesses are digitally transforming, and moving towards a more paperless way of working, it was surprising to see reports on TV showing the amount of paperwork now needed to export goods to the EU. Page after page of paper bundled together, being stamped and signed before shipments could be approved, causing additional work to be carried out manually for every shipment. If your existing system has been set up for electronic documents, does this mean a whole new way to process the paper? Thankfully, the answer is no, all you need is a system that seamlessly handles both paper and electronic files to enable them to enter into, and process through your business. You need document intelligence.
Being able to extract machine usable data is key to automating your post-Brexit export and import processes. In order to extract the data, you need to capture that data, and Cognitive Capture is a term used that groups together technologies such as OCR, and pattern matching to allow these documents to find the right content from any communication, or document and extracting it for you to feed your business processes – allowing you to avoid delays, increase efficiency and reduce errors that are inevitably made by carrying out these tasks by hand. Complex documents like CMR Waybills, commercial invoices and Single Administrative Documents won't be a problem for your automated system – it simply reads data, captures, and extracts what's needed without fuss, or human error.
You don't just get one type of document, from only one channel - so how can you automate these processes? Often when we are speaking to businesses looking at these solutions they will ask this question, or perhaps they have had experience of an older system that needed coding to set up the accurate identification of different types of document. This is where the Artificial Intelligence of this system makes things easier, as you can 'train' algorithms to classify types of document, and allow it to learn by example. This includes the ability to 'read' the documents with Natural Language Processing so that they can match them to the right shipments, purchase orders, and records in your ERP. When it comes across something new that it's unable to process, it will ask for human help, and the next time the same situation occurs, it will have learnt, and is able to then process all by itself.
Integrate Your System
The processes that had been designed and worked for shipments between the UK and mainland Europe have had to change. These processes were already complex and integrated with various companies, departments, and systems – now there are additional steps to include, meaning the processes are now being updated to match these new requirements and integrations to more closely match those needed for international trade. Alongside these new requirements, software providers have updated and introduced new interfaces, data formats and versions to assist their customers with their ability to prepare for Brexit.
With these systems being introduced, it's essential that you have a system that can integrate with any platform that automates trade processes, from a connection that simply reads incoming emails, to a full integration with your ERP and accounting. The best platforms include capabilities to simulate keystrokes in a legacy thick-client, or web user interface, as well as connecting to the latest RESTful web services to unlock any integration requirement. Organisations of all sizes will have technology ecosystems, and it's important that your automation platform should work within this landscape, and provide prebuilt adapters to connect to the core systems. With most businesses utilising cloud technology, this should also be be able to deploy on scale on your cloud of choice. The benefits of platforms like AWS, or Microsoft Azure are clear, and to take advantage of the low cost of ownership and efficiencies they provide, you should be looking at SAAS (Software as a service) solutions where the administration is managed for you by your vendor.
Keep up with changes to processes
We've mentioned that there have been a number of changes to the existing workflows for transporting goods between the UK and the EU, and there have also been brand new ones for managing the movement to and from Northern Ireland, and the new requirements for HGVs with the Kent Access Pass.
To ensure the greatest efficiency with these systems you need Process Orchestration. This models, manages, and monitors all the aspects of the workflow, and by monitoring these steps you can identify opportunities to optimise your efficiency. Importantly, as many of these processes are new and likely to change, or have new steps, these can be updated easily and without the need to involve IT. With low, or no code, and no lengthy development time you'll be able to keep up with these changes, giving you the agility needed to adapt to even the most complex new requirements without negatively impacting your business.
Give the repetitive tasks to a robot. With Robotic Process Automation (RPA), you can add task automation to your processes. By deploying software robots to replace or complement traditionally manual tasks you can further enhance your efficiency, allowing your workers to take on more meaningful tasks. With the new Brexit related activities around data entry, searching for codes, form submission and completion, and document processing, a robot is an easy way to avoid extra cost associated with hiring extra staff, and will reduce human error. Let the robot work tirelessly on the time-consuming tasks, and when it needs human intervention to manage unknowns, there is a simple interface accessible from the web, so even if you just have a mobile, you can access to keep things moving.
Co-ordinate your workflows with automation
Now we have seen how automation can help you overcome the challenges of changing Brexit regulations and processes, the real benefit comes from using your Intelligent automation workflows to co-ordinate between the different tools at your disposal – from your AI classification and cognitive capture, through to the integration of your back-end systems, where you can take advantage of robotic automation to take the burden of monotonous tasks – all the while having access to approve, edit, and adapt those processes with human intervention when needed.
An example could be a process that needed complete, consistent sets of documents, each with the correct data in each of them before any next step can be started.
Your Intelligent Automation workflow process will capture and assemble the documents, check the correct certificates of origin, packing lists, CMR Wayfills, C88 documents, and invoices have been received with a shipment to clear or to declare duty. If you were to check these manually, it would not only take time which can cause delays, but could also introduce errors that cause problems further down the line. With over 60 fields in the C88 alone, there is a lot of opportunity for error, especially with the pressure to complete multiple documents in time. Automating these type of tasks lifts the responsibility from your employees, allowing them to deal with the real job of running the business.
So finally, there is some good news, while Brexit may be introducing new, changing, and challenging ways we do business with the EU, you can simply automate away much of the hassle and effort associated with those changes to keep your exports and imports flowing, and your relationships with customers a good one.
Get your free eBook - Digital Mailroom Guide >>
Want to know more?
Twofold Ltd assists businesses to overcome these challenges with our range of mailroom equipment and software solutions. From mailroom equipment, scanning and capture, to document management and full digital transformation, contact us via the form here, or give the team a call on 0118 951 9800.