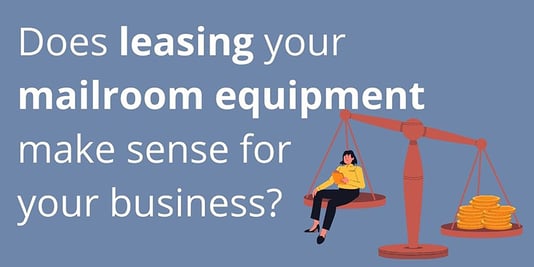 Lease your mailroom equipment
The last 18 months have made us all aware of how quickly businesses have had to adapt to change, but this has simply accelerated a trend for technology leading progress. The need to keep up with that technology with the latest equipment can be a strain on businesses of all sizes. Do you gamble on investing in expensive equipment that may become obsolete, or carry on with old equipment that doesn't allow for growth, and causes frustration among staff?
There is another option, lease your machinery and have the freedom to grow without the weight of heavy expenditure.
When is it right to lease?
There are definite benefits to owning your machinery, and in cases where you know you can easily upgrade, or modify without replacing, this is often the best answer. At Twofold we have customers who rent, and others who buy, and we are always available to discuss the right option for you.
For some, the peace of mind that comes with leasing is all they need, with maintenance and replacement for breakdowns, or maybe you only have short-term needs such as seasonal trends for sending large amounts of mail when buying a new machine just wouldn't make sense financially.
Some of the reasons you might choose to lease a machine:
Saves money in some cases
Caters to short-term equipment needs
Satisfies temporary production increases
Fills in when regular machines need maintenance or fail
Eliminates responsibility of maintenance and servicing
Book your FREE Mailroom Healthcheck today (worth £1000) >>
What mail and document management equipment can you lease from Twofold Ltd?
Twofold has partnered with the best mailing equipment companies such as Pitney Bowes, and Quadient, and provides their own machinery to bring you the best mailroom equipment, some examples of frequently leased equipment are:
Software to enhance your document and data processing
When dealing with multichannel delivery of documents, you need to manage them correctly. The only way to do this securely and consistently across your business while providing access where needed to your employees is to do this digitally. In order to do that you need capture software so that you can intelligently process the data inside those documents and you need an efficient way to process it.
Allow better collaboration, create automated workflows, and secure storage and retrieval with document management. These solutions are in the cloud, and can be set up as a monthly payment, the software is always up to date, and maintained for you. This means no more on-site servers and ends the strain on IT departments to keep it running and upgraded. Some of the software we provide:
Alongside our mailing equipment and software, we also provide consumables to keep you running, and security scanning equipment such as x-ray machines and metal detectors to protect your staff and premises. When paired with document management software solutions, you have complete control and visibility, enabling you to grow, and thrive as a business. With service and maintenance, with engineers based nationwide, we are always close enough to help.
Want to know more?
Twofold Ltd has over two decades' experience with mailrooms, both hardware, and software. We are an authorised Royal Mail inspector and maintainer of franking machines, and partner with world-class software solutions providers. This means we can offer advice and the right machinery or software to ensure you can manage your inbound and outbound mail – both physical and electronic.
For your FREE mailroom health check – worth £1000 – just get in touch using the form below.
Peter Kiddle
Mailroom Specialist